Tim LaBrucherie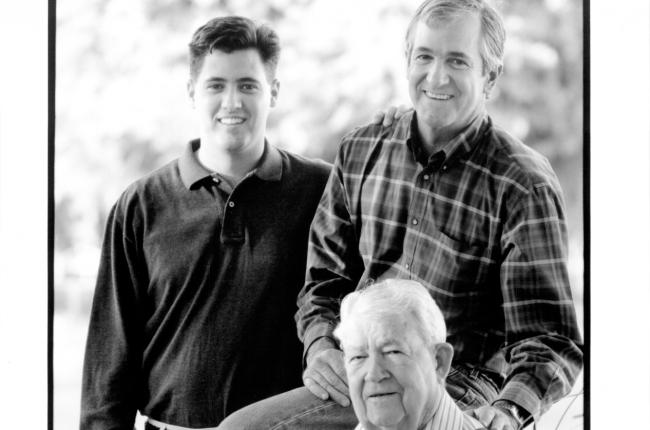 "The way we have operated is that each generation works until they die and then the next generation takes over."
Family:
Shortly after the turn of the 20th Century Jean Pierre LaBrucherie immigrated to the United States and landed in Los Angeles, where he practiced his craft as a butcher. He settled into a community of French immigrants and it was not too much later (around 1912), that there was a movement by his fellow countrymen to move down to the Imperial Valley and set up shop in that desert community.
His great grandson, J.P. LaBrucherie, who was named after his ancestor, said the original Jean Pierre came to El Centro and seized upon the opportunity to start a dairy and begin farming. Subsequently, his son Matt followed the farming path staked out by his father and continued the farming tradition. Tim LaBrucherie followed his father, Matt, into the business, and now J.P. represents the fourth generation working the land in the Imperial Valley.
History:
One thing that is a bit unique about LaBrucherie Produce is that the principals are very well educated, yet they do not have an ag degree between them. Tim earned an accounting degree from the University of Southern California and a law degree from Stanford University. J.P. also earned an accounting degree from USC, followed by a law degree from the University of Notre Dame. Both Tim and J.P. continue to maintain their C.P.A. and law licenses. Both men pursued those educational goals but expected to bring that knowledge back to the farm…and they did.
"Accounting is very important to running a business," said J.P. "It's a very valuable background especially considering the tiny margins that we operate on. And from a legal standpoint you can't go wrong with a law degree. It is very important to help manage the risk" inherent in farming.
But J.P. freely admits that his pursuit of education was greatly influenced by the path blazed by his father. "I look up to my father. I saw what he did and said I want to do that. I saw the value in that path." For a while after attaining his degrees, J.P. did work at the accounting firm of Deloitte and was able to practice tax law at the same time. But he assumed that he would come back to the farm to carry on the tradition. However, he says he was never forced into it. "It was my decision."
And it is the same path he expects to take with his three children – two boys and a girl, all of whom are under the age of 10.While the family farming business has passed from father to son to son to son, J.P. will be very happy to break that pattern if his daughter shows an interest in agriculture. At 9, she is the oldest and J.P. says "very intelligent and very capable. She could be a farmer."