Jan Berk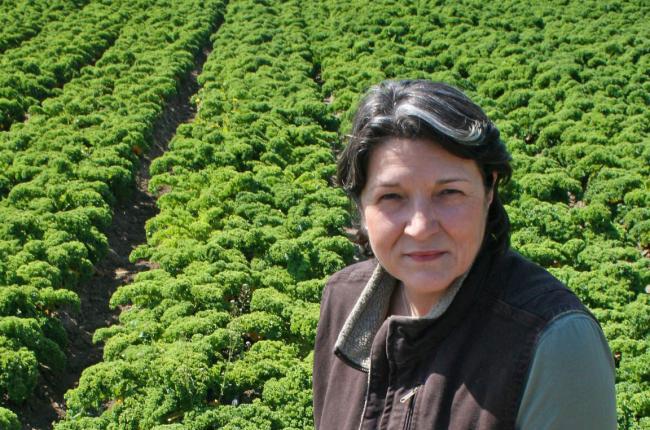 "There's so much more that we can do to make food fun and interesting and nutritious."
Family:
San Miguel Produce was founded by Roy Nishimori and two other partners back in 1975. Nishimori is a third-generation farmer and a Japanese-American. His family grew vegetables in the Los Angeles area is what is now know as Watts. In the mid-1950s, there was a huge rush to create housing in that area and lots of farmland started to disappear, according to Jan Berk, vice president of San Miguel Produce.
Farmers started to look elsewhere. Oxnard was one of the locations the Nishimori family settled into 50 years ago, and they are still there today.
Now, San Miguel Produce grows all kinds of specialty leafy vegetables such as kale, chard, mustard greens, collard greens and dandelion greens in Oxnard.
History:
People once thought of kale as just a garnish, but the nutrient-dense leafy vegetable is enjoying a rebirth thanks to San Miguel Produce in Oxnard, Calif.
"Now it's become a much more popular item to consume," said Jan Berk, vice president of San Miguel Produce. "There's kale chips, smoothies, salads and all kinds of crazy things that people are doing with kale. And it's actually quite delicious."
With fun names like Iron Man, Super Kale and Ener-Chi, San Miguel Produce is developing innovative salad mixes. Its ready-to-eat products feature exclusively kale, chard, turnip greens, mustard greens, collard greens, dandelion greens and other specialty leafy vegetables. The new Iron Man salad mix, for example, features iron-rich beet greens, spinach greens and comes with a dressing you add and toss right in the box.
The fun aspect of farming and providing these super foods is something Berk has come to enjoy, helping to run the business with her husband, Roy Nishimori.
Berk's love of farming came through a unique path. She went from the newspaper industry to the agriculture industry. "The newspaper business is very volatile and it continues to be," Berk said. "So it was time to do some soul searching and to look for maybe a change."
She was casually involved in San Miguel Produce for a number of years through her husband, Nishimori, who founded the business with some other partners.
"Roy and I had this discussion one afternoon on a ride up to Northern California about whether or not we thought we could work together," Berk said. "And we said, 'let's give it a try,' and we've never looked back."
Working with her husband is a natural partnership for Berk, and working in agriculture is also a natural fit. Berk realized that there weren't a lot of women in the ag industry, but then again, there weren't historically a lot of women in the newspaper industry.
"I love not having to wear a suit everyday like I used to," Berk said.
So she fit right in.
"People are very grounded for a lot of different reasons in this industry because Mother Nature has a lot of control about what happens here. It's not just about you," Berk said. "So I think that's what makes ag people very special and very thoughtful towards each other."