Arnott Duncan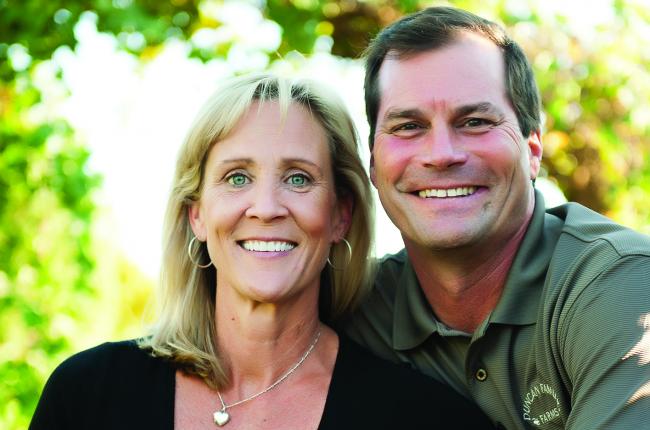 "I always knew I wanted to be on the farming side of the business. I loved working in the outdoors and I loved doing vegetable crops."
Family:
As he tells his story, it is obvious that the Duncan Family Farm grew organically before it started farming organically. One step at a time, Arnott and his wife, Kathleen, built the business to its present size and scope. Today the company grows more than 2,500 acres of specialty crops, primarily organic baby lettuces for processors who provide bagged salads to the retail and food service industries. Duncan Family Farms has operations in Central Arizona as well as on the Central Coast in California.
Several years after launching the farm, the Duncans decided they wanted to reach out to the community and combine their farming experience with Kathleen's chosen profession in early childhood education. They decided to open up part of their farm to the public, offering school tours to let kids learn about agriculture and connect with how food is produced. "Kathleen was the brains behind this effort," Arnott says, "and from the very beginning it was very successful."
In that very first year, 1992, 18,000 school kids toured the farm. And for the next 11 years, the Duncan Family Farms hosted about 30,000 kids per year. They did charged a nominal fee for the tours, but Arnott said the commercial side of the farm, which included festivals also open to the public, always subsidized the tours and educational outreach.
Nonetheless, Arnott looks at that part of the business, which was forced to close in 2002, very fondly and believes it created a great connection to the community. Unfortunately, the Duncan Farm in Arizona is located in close proximity to an Air Force base. After the events of 9/11 in 2001, heightened security required that the farm be closed to the public.
Arnott is not certain that the next generation of his family --- which includes an Arnott Duncan IV – will follow in his footsteps. He has two sons that have graduated from college and are currently doing their own thing and another defacto member of the family in college that he and his wife have offered a home to since the beginning of his high school. He calls all three "his boys" and said they do show an interest in the farm and the crops "but I don't know if they will be inspired to get into this business. My two older sons did not want to do it right after school and I admire that. They are curious about farming so maybe someday they will and that would be pretty cool."
History:
To hear Arnott Duncan discuss the genesis and progression of Duncan Family Farms, you think it all happened by happenchance. "It's better to be lucky than good," he says.
In reality, Arnott is a 4th generation Arizona farmer with deep roots in Arizona's sandy soil. His father farmed before him and while he exposed Arnott and his brothers to farming, he always believed that if they were to choose the profession they should do it independently. One of Arnott's brothers currently farms in small lots selling to very high end restaurants.
Arnott fell in love with farming at a very young age and after college and a short stint on the family farm, he set out on his own in 1985 and began farming a few hundred acres of row, using conventional farming methods.