Andy & Abbie Etchart
Everkrisp Vegetables Inc.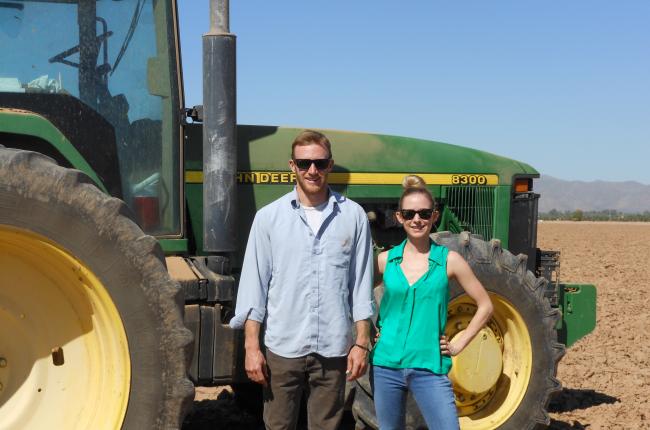 "Tolleson has been a great neighbor to us. So we want to do everything we can to return the favor."
Family:
Abbie and Andy Etchart come from a long history of agricultural workers. Their great grandfather, Mathieu Etchart, left his family farm in the Basque region of France in the early 1900s, looking for new opportunities in America. He found them in Southern California. His emigration to the states brought him to the Chino area where he continued the farming tradition that had long sustained his family back in Europe. The newly-situated California farmer began a new life based on an old occupation, growing sweet corn and potatoes, which he sold on the wholesale market.
Along with his vegetables, Mathieu also grew a family in California. He married Dominica, a girl from his hometown in France, who had followed him out to California. Their only son, Ferdinand (Ferdie), was raised in the family farming tradition, so it was no surprise that when he came of age, he decided to follow in his father's footsteps. As an adult, he began work with a company called Admiral Packing Company, an iconic California lettuce grower. It was with Admiral that Ferdie Etchart moved away from his parents to Arizona in search of more land and more opportunity. Arizona land was more plentiful and was much cheaper. That would eventually be a factor in allowing him to leave Admiral and venture out on his own and start Everkrisp in 1972.
History:
Although the road to working for Everkrisp may have been more apparent for some of Ferdie's children, it was not as obvious for two of his grandchildren, Abbie and Andy. As they reached adulthood, their future with the company was never certain. And while they both had different pathways that brought them back to the farm, there was a common element that prompted each to return -- it took being away from the family business to gain an appreciation for and a desire to be part of it.
When the time came for Abbie to go to college in California, she took up theater and business for her undergraduate degree. It wasn't until a couple years later that she got interested in sustainability and environmental stewardship. That new-found interest led her to obtain a master's degree in urban sustainability. It was actually her sustainability research that brought her full circle to wanting to be involved in the family business. She completed her master's thesis while working at Everkrisp and decided to draft a sustainability plan for the company – until she realized the company already had one in place -- they just referred to it as an environmental or conservation plan, which further validated her career decision.
Andy's path back to Everkrisp was a little different. He had been working in the company fields on school breaks since he was 16. College took him away from the farm and he was happy for that. After college, he wanted to travel, learn Spanish and do volunteer work. It was while he was away and traveling that he realized how important Everkrisp was to him.
Despite Andy's previous hands-on field experience and Abbie's Masters' in sustainability, it was obvious that they needed to become better acquainted again with farming operations. So they went through at least one harvest season with the harvest foreman to get a better understanding of the operation. Now both Abbie and Andy work in the company's sales department.