Vincenzo Ricchiuti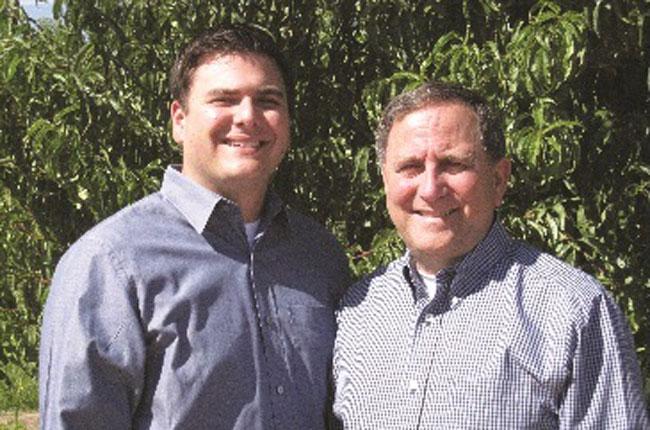 "Our goal is to be the leader in the organic olive oil business."
Family:
It was 1914 when Vincenzo Ricchiuti came to America from Italy and laid the foundation for the family firm that would follow. Now almost a century later, the Ricchiuti family has come full circle with the establishment of a new company and the production of a product which honors their forefather and his roots.
"Our new company is called Enzo Olive Oil Company, which is named after my great grandfather, and involves growing and processing olives, which are a big crop in Italy," said Vincent Ricchiuti. "In fact, our family comes from Puglia, the top olive producing region in Italy. We have relatives there that grow olives."
The 97 years in between the landing in America and the launching of the Enzo brand olive oil is truly a quintessential American success story.
History:
Over the years, the company grew and grew adding thousands of acres and turning into one of the premier tree fruit packers and sales organizations in the San Joaquin Valley. They grew peaches, plums, nectarines, apples, apricots, and citrus as well as olives and almonds. The elder Pat remained active in the organization until his death in 2008, but he did slow down around the age of 70 in 1990, which is when Pat V. took over the top management roles in the organization. It was also about that time that PR Farms survived a massive fire which leveled its packing shed. The facility was rebuilt, however and the past two decades continued growth was the order of the day.
The stone fruit industry was good to PR Farms for more than a half a century but times were tough. A variety of factors had led to a series of bad years for the California tree fruit industry and the Ricchiuti braintrust decided to go another way.
"We realized that stone fruit could not be part of our business model as we moved forward," said Vincent. "We began the process of replacing most of our acreage with almonds…and we also put in more olive trees."
PR Farms had diversified over the years and so it had grown almonds and olives but it greatly increased that part of its portfolio over the past several years. It also kept its wine grapes, which it sells to Gallo, its citrus acreage, and 100 acres of freezer peaches.
Today almonds are its main crop but its olive acreage, which is all organic, is clearly the apple of Vincent's eye. "In a day or two (mid-July) our olive oil machinery will be leaving Napoli and headed here. We will begin processing our olives in August," he said. "We see this as our niche."
Vincent has become somewhat of an expert in olive oil and he said that most of that which is bought and sold in the United States isn't that good…and the vast majority of it is imported. "Ninety-eight percent of the olive oil consumed in the United States is imported. Only 2 percent is grown and processed here. With the locally grown movement, we think there is a great opportunity for olive oil."
Enzo Olive Oil is being positioned as a premium, locally grown brand. He added that most of the olive oil sold in this country as extra virgin olive oil does not deserve that designation. "It's not good quality. The American palette doesn't know the difference between a good olive oil and a bad one but it is not that difficult. You can easily taste the difference if you put them side by side."
He said the company is going after the organic business because "we have learned from our mistakes in the tree fruit business."
Vincent, who serves as director of operations for PR Farms, is secretary/treasurer of Enzo Olive Oil Company, which is a partnership between he and his father. "Our goal is to be the leader in the organic olive oil business," he said.
Vincent said there are several large California olive oil companies but both conventional and organic olive oil in the United States is more of a boutique business. "There are many boutique firm that bottle 100 gallons or less. We are going to be much larger than that," he said declining to further qualify the new company's size.
But as he said earlier, almonds are now PR Farms main crop. The almond industry has had great growth in the past two decades and Vincent said PR Farms is convinced that that growth will continue. "We think there is plenty of growth still available. Looking at the emerging markets…almonds have a great future."
PR Farms sells most of its almonds to manufacturers to be used as an ingredient but it does packages some and sell them fresh in the firm's retail store – Bella Frutta – that is located across the street from its packing shed in Clovis.
This, like seemingly all of the Ricchiuti efforts, is a way to expand their business while having fun and serving their community.