Steve & Tom Church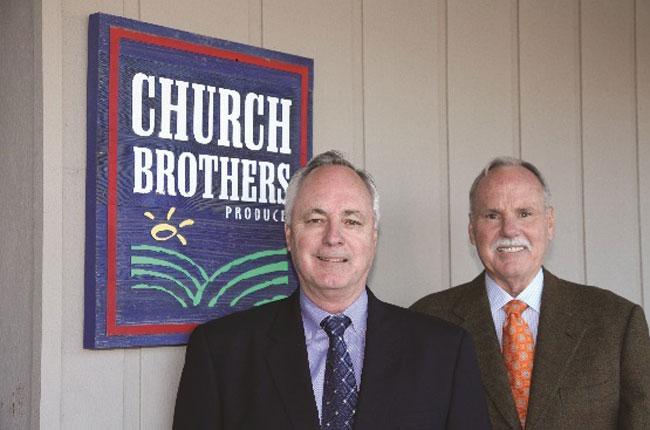 "Innovation and hard work are the main keys to our success."
Family:
For about 40 years, the two Church brothers have been making their mark in the vegetable industry, and for the past 20 they have been pretty much joined at the hip.
"I share an office with my brother," says Steve Church who was recently named chief executive officer of Church Brothers LLC, with his brother, Tom, moving to the chairman of the board position. "We also share ideas and discuss strategy for Church Brothers. We are talking all day long. We work very well together."
The younger of the two Church Brothers by four years, Steve admits that the new appointment as chief executive officer may change the dynamic a bit. "My brother wants me to take more responsibility."
Up until now, Steve Church admits that there was a clear leader. "You have to have one top boss. Tom has always been the forward thinker and I have been the detail guy. I would always tell the employees, if I tell you one thing and Tom tells you the complete opposite, go with what he says," Steve quipped.
But he quickly added, "We've always worked together, including our employees, to accomplish the mission and goals that Tom has set forth."
History:
The two men grew up in Salinas with agriculture in their blood. Their uncle, Bruce Church, had a thriving company that was a Salinas powerhouse. Their father, Sidney Church, was a local attorney who negotiated labor contracts and numbered many of the Salinas grower-shippers among his clients. Tom Church graduated from Cal Poly San Luis Obispo and went to work in his uncle's firm for about a decade. Steve Church graduated from Arizona State University and joined Growers Exchange before starting a brokerage business that bore his name.
In 1981, Tom Church and some partners started Fresh Western. "I joined them in 1985 and we continued to build the company until we sold it in 1993," Steve said.
The new owners kept the management staff in place and renamed the firm River Ranch, using the main brand as the new name for the firm. The Church brothers stayed on for the length of their five year contract, and then started Church Brothers. Soon thereafter True Leaf was started. In both instances, the firms are partnerships with a handful of working partners. Today, the two firms operate under a similar corporate structure, with Church Brothers handling the the commodity side of the business and True Leaf is the processing arm.
Steve said the firms are on a good growth pattern with True Leaf registering very strong growth and the commodity-driven Church Brothers growing at a moderate rate. New production innovation is high on the list of priorities with their own plant breeder working on a number of different projects. Their latest introduction is wasabi arugula, a specialty lettuce receiving very high marks.
Steve is very bullish on the future of agriculture in the Salinas Valley and California. He said the California Leafy Greens Marketing Agreement, of which he was an original board member, deserves great credit for steering the industry through the aftermath of the 2006 spinach crisis. "The executive committee of the LGMA deserves all the credit. They did a great job. And hiring Scott Horsfall was a great idea. He has been a great asset to the industry."
Church said that his firm has come all the way back from that disaster and continues to move forward