Stephen Boskovich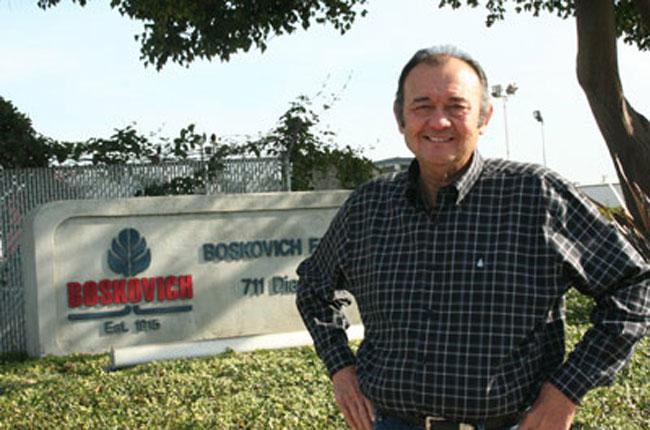 "To grow in farming, I believe you have to do a little bit of everything from the bottom up."
Family:
In 1915, Stephen Boskovich began farming in the San Fernando Valley, selling his crops at the Los Angeles Wholesale Market. His sons helped out on the ranch. By the 1940s, two of Stephen's sons, John and George returned from World War II and began working for their other brother Phillip, who had been growing green onions and carrots on seven acres of land. Eventually, the three brothers formed Boskovich Brothers Produce Growers. In the 1960s, the Boskovich brothers moved their farming operation to Newhall and Saugus area north of Los Angeles growing green onions exclusively on a 145 acre ranch. By the 1970s, three of Stephen's grandsons: George, Jr., Phillip, Jr. and Joe, joined the family business, became partners, and formed Boskovich Farms, Inc. After growing green onions for 25 years, George Jr. recognized it was time for a change.
Expanding beyond green onions, George and his brothers added radishes to the product line and sold them to their green onion customers. As the brothers added products, they began to recognize an economic disadvantage to growing green onions in California. And so, the firm that had been devoted to one commodity for a quarter of a century was not only adding new products but was about to take a bold step – one that would take them south of the border and eventually around the world.
Moving Boskovich Farms into Mexico was more than merely an expansion, it was the beginning of a trend. George recognized that unless he became flexible and altered the way the firm operated, the family business may not have survived.
Since then, Boskovich has worked with growers and buyers around the world. They worked with growers in China and currently supply product to Europe.
The consolidation for products and steady supplies available year-round attracted many new customers, and the continuing success encouraged the family to broaden its product line even more. By the mid 1980's, Boskovich Farms was producing more than 30 different vegetable crops, twelve months of the year, from four locations in California, Arizona and Mexico.
With technology allowing better results with fresh-cut vegetables, Boskovich later purchased an established fresh-cut processing facility, which became Boskovich Fresh-Cut. This processing division enabled the company to provide top quality value-added products for retail and foodservice, and has become the company's most rapidly growing product line. The company's headquarters and processing facility has since been consolidated, but the move to value added products is another example of how George Jr. has continued a progressive approach to farming.
 
History:
Nestled among other ag giants like Duda Farm Fresh Foods and Gills Onions sits a 15 acre facility, which is home to loading docks, processing facilities, a fabrication shop, a wood shop, a classified research and development facility, a fully loaded garage with mechanics at the ready and farmer.
With years of growing, processing and shipping under his belt, Gerorge Boskovich smiles and shakes his head and reminisces about how Boskovich Farms earned a reputation for being one of the more flexible and progressive vertically integrated family farms in California.
"The conditions of farming are constantly changing, and you have to adapt; you have to have the right attitude for farming," said Boskovich as he reaches for another swig of black coffee at Boskovich's headquarters in Oxnard, Calif., under newly installed, energy efficient lights.
"I grew up on a farm, and I didn't want to be a farmer because farming to me was having to drive a tractor all day and dropping fertilizer in to a hopper; it wasn't very romantic," he continued.
But as the years went by and George Jr. parlayed part-time work in the field and driving the tractor into running the packing shed and cutting his teeth in sales, he would find the romance in farming.
Never having graduated from college, Boskovich knew he had to learn the entire business before he could take the reigns from his father.
"To grow in farming, I believe you have to do a little bit of everything from the bottom up," he says.
And so he did. From a boy bunching onions to a young man driving a tractor to an experienced fieldman working the sales desk, Boskovich laid a foundation that would serve him well. But beyond the work experience, it is an inherent desire to succeed…to progress…to try new things that set him apart.