Sonny & Mark Rodriquez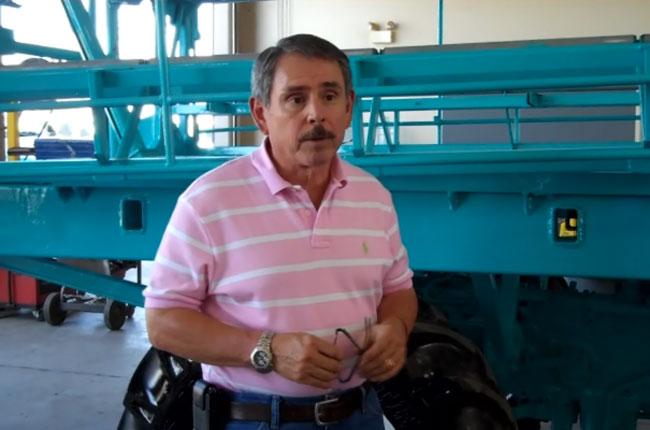 "I think in the back of my mind, I always wanted to work for dad. Dad had a plan; he let us go and try things. We realized that's not our forte."
Family:
The story of the Growers Company is one of tradition; a tradition that has demonstrated sustainability through perilous worker strikes, uncertain immigration policies and mounting regulations.
Sonny and Mark Rodriguez are eager to maintain and grow what their father began 59 years ago. What their father began is more than a company charged with providing field laborers/custom packers in Arizona, California and New Mexico; it's a tradition of excellence.
Having worked numerous agricultural jobs, Joe L. Rodriquez recognized an opportunity with the Bracero program in 1950. "He liked running the crews, and he loved working with people," said Sonny, the older of the two brothers who currently run The Growers Company. "And he thought he could better the lives of some of the farm workers as well."
Joe worked hard to get the company started and eight years later, was able to buy his first new car – a 1958 tartan teal Chevy Impala.
As Mark relays, the car was not nearly as important as the color and what that color has grown to represent at The Growers Company. The younger Rodriguez brother says that his father appreciated that color so much he used it throughout the company. To this day, the busses and machinery are painted tartan teal. The trim on the Rodriguez home was even painted tartan teal – not just any teal, but tartan teal. This color and what it represented, in terms of getting started and achieving a goal, has become sacrosanct for The Growers Company. If something is off, even if it is off just a little bit, it's not good enough for Sonny or Mark Rodriguez.
The family likes telling a story about the painting of Joe's house one year. Upon returning home from the fields, Joe noticed that the teal the painter initially used on his home's trim was slightly off. "He made the painter re-paint it the right color," Mark recalls, "which reflects back to the job. He was a real stickler for how the box is closed. First of all, the box is packed correctly on the inside – make sure you have 24 usable heads on the bottom and top – with the staples nice and wide and even and straight. People would ask why do you care how the box is closed, you're not going to eat the box. And he would say if the outside looks good, you know the inside will be good."
Sonny added: "He created a culture that we still follow."  
History:
In conjunction with doing things correctly the first time, every time, The Growers Company prides itself on the way it takes care of its employees. Though it may sound simple, Sonny says one of the guiding principles of the company is to embrace the Golden Rule.
"We take care of our people; that's what we do," added Mark.
About five years ago, the Rodriguez brothers decided to split their responsibilities at the business. Mark handles the field operations and Sonny handles the administrative side.
The training never ends in agriculture and the work is ever present. Having observed their father pour in so many hours into the business, both Sonny and Mark were reluctant to embrace a career in agriculture.
As for Sonny, he didn't find the hours all that appealing. "I didn't like the hours," he recalls. "My dad was home at dinner every night, but he'd be up at 3:30 in the morning."
Sonny went on to start an alarm company, which is still in existence today, during his sophomore year at Arizona State University, but upon graduation, he returned to work with his father.
Mark dabbled in a number of different areas prior to rejoining his older brother and father. He started a fitness center in Phoenix, which was used by numerous high schools and colleges and even a few members of the Phoenix Suns. He also started a restaurant, but in the end, he knew his calling was to labor in the family business.
"I think in the back of my mind, I always wanted to work for dad," said Mark. "Dad had a plan; he let us go and try things. We realized that's not our forte."
Sonny and Mark's forte, as it turns out, is indeed running The Growers Company and continuing a tartan teal tradition that demands exact excellence and respects all people. But it's also a tradition, which believes in giving back to the community.
Mark serves as the committee chairman of the Yuma Young Life and is serving his ninth year on the national board. Young Life is a non-denominational Christian youth outreach organization that believes, "in the power of presence. Kids' lives are dramatically impacted when caring adults come alongside them, sharing God's love with them."
Sonny added that they have also started a private Catholic high school in Yuma, which is home to about 330 students. They started the school in 2000 and have already garnered state championships in soccer, track and field, baseball and cheer leading. Sonny says that his primary focus is to create a caring environment where kids can effectively learn.
"The way we were raised is God comes first, then family, then your business and then if you have time, you make your community better," said Sonny.
With Sonny's oldest son set to join the family business, the inherited tartan teal tradition of The Growers Company, which was established so many years ago, is primed to press on.