Sammy Duda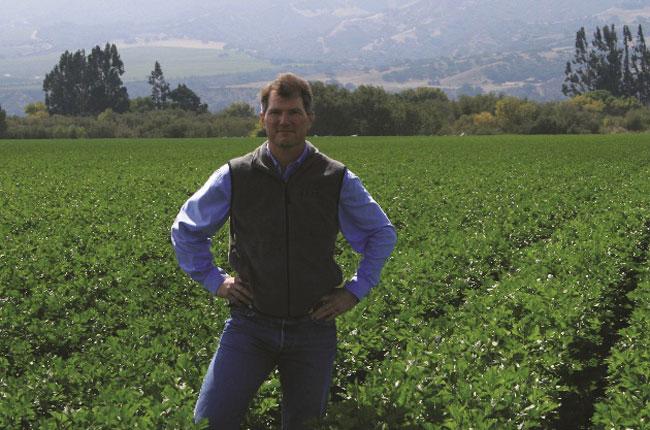 "There is no other place like California. There is no other place with these conditions and with the spirit of innovation that we have here. It is very difficult to duplicate. In fact, no other place has come close."
Family:
In south and central Florida, the Duda name is synonymous with production agriculture. Sammy Duda's great grandfather, Andrew Duda, emigrated to the United States and settled in the Oviedo area of Florida. He had three sons and three daughters and by the mid-1920s, he had started A.Duda & Sons and was farming celery on 40 acres. Needless to say, expansion of both the family and the farms has occurred quite precipitously ever since. Today, the company farms tens of thousands of acres in various locations, including California and Arizona, and there are 44 members of the fourth generation which includes Sammy.
History:
Sammy was quite the baseball player in high school and decided he wanted to play in college at the University of Florida. However, he didn't make the team, which proved to be fortuitous – for both his baseball career and his life. After transferring to a junior college to continue his baseball education, Sammy then went out of state to Mississippi State University to play ball. There he had the opportunity to play with some great players (future major leaguers Will Clark, Booby Thigpen, Rafael Palmeiro and Jeff Brantley) and on a great teams (Bulldogs finished third in the 1985 College world Series). And probably most importantly, he got a taste of life outside of Florida.
Like all of the Duda offspring, when Sammy decided to join the family farming operation, he went through a one-year orientation period to help find his niche in the organization.
"I spent several months in many different departments including Finance, HR (Human Resources) and the Economics Departments. "
That led to a career counseling session and the eventual decision to join the firm's Vegetable Division Initially, Sammy wanted to join the Citrus Division, but, at the time, Florida's citrus crops were having major disease problem and the future of that industry did not look bright. Vegetables, on the other hand, were on the rise as Duda had expanded to California several years earlier.
"I had already left the state to go to college and it seemed like a good idea to do it again for my career."
As a member of the Vegetable Division, Sammy was first stationed in McAllen, Texas, in the 1980s. From 1992 to 1996, he spent much of his time in Yuma, Arizona, working the firm's vegetable deal from that locale. "I spent most of the year in Yuma, but summered in Salinas," he said.
In 1996, he moved to Salinas permanently and has been there ever since.
Sammy Duda and his wife Amy have been married for 25 years. They have three teen-aged kids with two in high school (Samantha and John Jackson) and one at LSU (Mary Beth). Throughout the years, Sammy coached his kids in various sports, but today most of his spare time is spent on the golf course or on the baseball diamond.
"I still play baseball in an over 30 league."