Ryan Van Groningen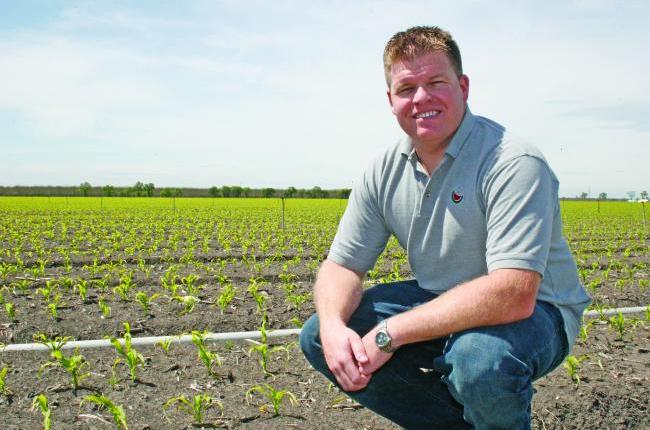 "Farming is something new. It's different every day."
Family:
Van Groningen is part of the fourth generation of Van Groningen & Sons, a Manteca, Calif-based grower and shipper of watermelons, sweet corn, pumpkins, almonds and walnuts. One of Western Growers future volunteer leaders this year, he found his niche in the family business as the sales manager. Today Van Groningen works alongside his brother, father, cousins, uncles and even his 87-year-old grandfather.
"At a very young age already, it's something that's kind of in your blood," Van Groningen said. "It's not like we started working when we were 16, it was when we were 8 years old … we were already involved. So when you've done something that long, you kind of get tied to it a lot faster."
Van Groningen, who has two young toddlers at home, wishes the public would understand that the food he grows is the food his family eats. "So for me to ever think that I'm going to do something to harm my own children, I would never do that," he said. "Now we go ahead and take more samples. When we start harvesting a field we want to make sure it's safe. We send them (the samples) to a lab just to make sure the stuff we have been doing out in the field is now being verified in a clinical, proven scientific way."
Van Groningen also said folks tend to think farmers are only in it for the money. This misconception makes him laugh a little. For starters, farming is very risk.
"I think sometimes people think that farmers are only out for their bottom line," he said. "You know, if they can pick a variety that's going to yield them more, that's what they're going to choose. If they do something in the field that's going to save them money, they're going to do it. That's not 100 percent true, because we understand as farmers that the product has to taste good, (and) that people (must) want to continue to buy our products."
That same type of passion for the product and for the family business is what brought Van Groningen back to the farm year-round in 2003 after graduating from Cal Poly, San Luis Obispo, with a degree in crop science and a minor in agribusiness.
"What I'm most proud of about our farm is that we've started from real humble beginnings and we were at real humble beginnings for a very long time," he said. "Over the past 10 to 15 years we've been able to grow fortunately and we have done pretty well. But it hasn't always been like that, so I have to give credit to my father and my uncles, to stick it out through the tough times. And there's going to be tough times again."
History:
Ryan Van Groningen, part of the third generation of Van Groningen & Sons, has many memories of growing up on the farm. He recalls sitting on his father's lap driving forklifts in the packing shed and tractors in the field. As his brother Jason recalls, one evening dad accidentally left the two siblings out in the field. As Jason tells it, his father got home and his mother asked where the boys were.
"We were walking home," Jason said laughing. "Here it was getting dark—7:30 at night. Well, I guess we better walk home Ryan, Dad's not picking us up."
And although Ryan Van Groningen isn't getting left out in the field anymore, he still loves farming because of the surprises. It's not a predictable nine-to-five job, he says.
"Farming is something new. It's different every day."