Glen Tanaka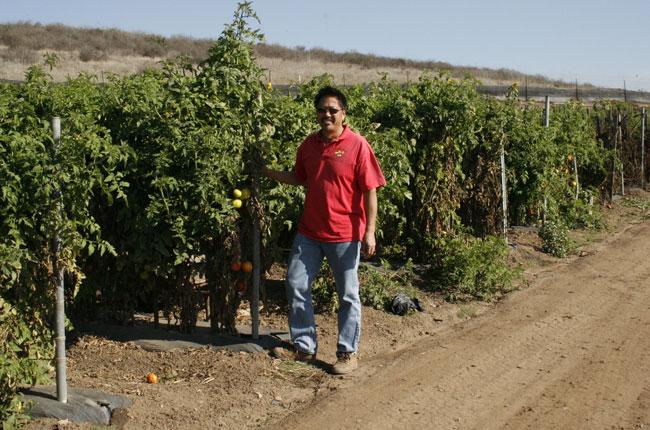 "In the summer time, kids can pick an ear of corn right off the stalk. People can see and learn where their food comes from and how it's grown. It's very reinforcing."
Family:
In Irvine, the Tanaka family still grows strawberries, tomatoes and other produce on about 25 acres of land. Their successful business story these days isn't about supplying the big-box stores or other retail grocers. It's how they have turned a small farm into something special for the children and families of Orange County.
They are thriving with a unique community supported agriculture (CSA) program, a produce stand along the side of a bustling boulevard, a Christmas Tree lot in December and the 20,000 school children who annually come to pick pumpkins in the fall, strawberries in the spring and watermelon and corn in the summer. Glenn Tanaka and son Kenny (the fourth-generation of the Japanese-American Tanaka family) run the year-round operation that is more agri-tourism now than agriculture.
History:
"We had a few bad years in the '80s and really had to cut the operation down," said Glen Tanaka. "About 10 years ago as part of a community service, we brought some school kids out to the farm and gave them a tour of our pumpkin patch. We let them take a pumpkin home. More kids wanted to come. When we got serious about this, we started making money." While many schools these days can't afford field trips, there seems to be plenty of takers for tours of Tanaka Farms. "It's a hands-on farming experience for the kids," says Glenn. "We hand produce out, or let the kids pick it right out of the ground."
Tanaka gears the tours to Kindergarten and pre-schoolers and consequently lots of parents and teachers come along. "There's a lot of tasting going on," say Glenn, who also grows broccoli, celery, cauliflower, green beans, and bananas (for show). "In the summer time, kids can pick an ear of corn right off the stalk. People can see and learn where their food comes from and how it's grown. It's very reinforcing." Tanaka Farms also delivers fresh produce to more than 100 schools every week in their CSA program.
Unlike some CSA programs where people buy into the farm businesses to enjoy the produce but are frequently disappointed when crop failures yield little food yet still require the same investment of funds, the Tanaka CSA program provides an added value – it serves as a fund-raiser for the school. For $25 a week, a box of fresh produce containing a variety of produce items, is purchased by a student's family and delivered to the school. The school gets a $5 donation and dozens of families get produce grown at Tanaka Farms and other local small growers every week.
Everyone benefits from the program. "The schools support their local farmers, get to enjoy healthy fresh fruits and vegetables that are delivered right to them, and we sell our produce," says Glenn. Tanaka Farms does very little advertising. Word-of-mouth is spreading the program outside of Orange County into Long Beach, Palos Verdes and other parts of Los Angeles County. Recently, other businesses have begun participating in the program.
Today Tanaka Farms is a very different operation than when it began. Glenn's grandfather was born in Japan and the emigrated to the United States. His dad was born in Dinuba in the San Joaquin Valley. Glenn grew up farming in Orange County and planned to continue to expand the family's farm when it was his turn.
He earned a degree in agriculture from Cal Poly Pomona to help him in that pursuit. But as it turned out, that business model was not going succeed in a changing Orange County forever, so Glenn and Tanaka Farms cleverly re-invented itself a decade ago to serve an increasingly-urbanized community. It is definitely succeeding and educating people about where their food comes from. School children in Orange County recognize the face of the man who grows their food. He is Farmer Glenn!