Catherine Fanucchi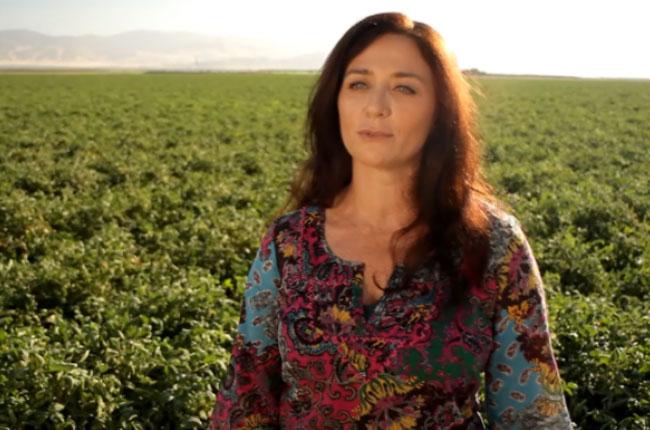 Family:
You can take the woman away from the farm, but you can't take the farm away from the woman. Catherine Fanucchi grew up on her family farm in Mettler, went away to college graduating from the University of Southern California with a degree in International Relations (and a good/bad football habit). She then earned a degree in law and worked the next eight years as an attorney including a stint on Capitol Hill in Washington, D.C.  But she always wanted to farm. 
One day, she told her father, "I want to do what you do on the farm." 
Charlie Fanucchi accepted his only daughter back to Bakersfield to join his two brothers and nephews in the farming business begun by "Papa Joe" almost 100 years ago.
Giuseppi (Joe) Fanucchi was 16 when he left the village of Tassignano near Lucca, Italy, that had been his home, got on a boat and came to America. It was the first time he had seen the ocean, even though today one could drive from Lucca to the sea shore in about 30 minutes. Joe eventually made his way to Buttonwillow, CA to find work. For a time he joined two of his brothers, Giovanni and Giorgio, as they began to farm.  Eventually, as their families expanded, one and then all three brothers went on their own.
Papa Joe rented land at first from the Kern County Land Company and settled in Kern Lake to raise a family. There they grew staple crops – sugar beets, cotton, wheat and alfalfa. As Catherine's father, Charlie, and uncles, Joe and Frank, farmed, they expanded their operations and acquired more land.  Joe went to Arvin, Frank to Wasco, and her father to Mettler. Today, their operations surround the city of Bakersfield. As ground was acquired, they diversified into potatoes, carrots, onions, almonds and grapes.
"We are the American Dream," says Catherine. "Our grandfather came to this country with very little formal education and eventually farmed for himself. When it was time he was able to send Charlie, my dad, and my uncles Joe and Frank to college. They all graduated from college.  And then returned to the farm.  It's a big deal for us."
Catherine will also be forever involved with politics and advocacy for farmers and agriculture and urges others to also get involved through membership in Western Growers. "We are involved on our farms day to day, but also need to be involved in local, state and national politics and government," says Catherine. "I encourage farmers to become active advocates for issues that affect agriculture. Western Growers is a tremendous presence in advocating for us so we can do our jobs providing the food that feeds the world." 
As a member of the Western Growers Board of Directors, Catherine Fanucchi is at the front lines representing the needs, value and challenges of farming to those people who have the ability to affect the California farming industry. "Farming is not on the minds of urban legislators so the only way we survive is to make sure that they know the value of farming," she says. 
"We have to be involved with how this state and nation are governed and they have to know us. It's our future that's at stake."
History:
"When I was living in Washington, D.C. and had been practicing law for some years, I told my family I'd like to come back and farm which was no small step or decision. Farming was never really out of my sight."