Casey Houweling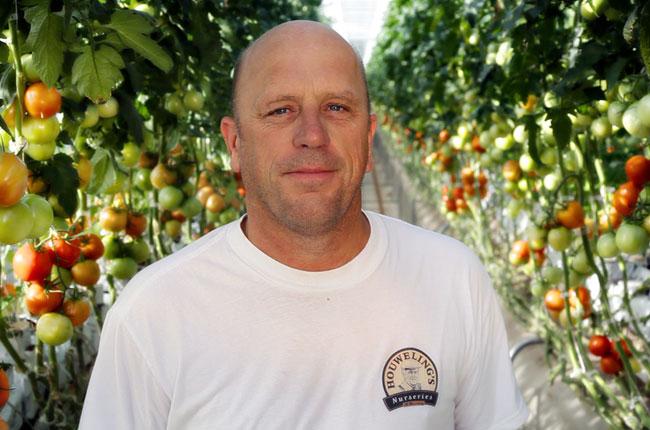 "We have to figure out ways to produce more with less. There are ways of doing it, it just takes a different mindset."
Family:
Houweling's parents Cornelius and Plonia emigrated from Holland in 1951. His father, a landscaper, built a small floral operation in Vancouver, B.C. The family slowly grew that business and later built six acres of greenhouses for tomato production in Delta, B.C. in 1985.
Houweling said he got the idea for tomatoes after a trip to his parents' homeland. "I thought if they could do that in Holland, we could do that over here."
The firm continued to expand tomatoes adding 160 acres of land in Camarillo and 20 acres of land in Oxnard in 1996, followed by an expansion in 2000. Houweling divested himself of the flower side of the business in 2000 and is now the sole owner, with a portfolio of 125 greenhouse acres in California and 50 acres in Canada. Houweling also grows cucumbers on a portion of the land in the United States.
And it's not just the end-game Houweling provides to consumers looking for that perfect fruit: Houweling's also provides seedlings throughout the Western United States, Western Canada and Mexico.
But it wasn't an overnight success. Houweling said there was a lot of hard work – and it's all a learning experience. He said when they started, the business environment was very different; they were able to succeed when others might not today with the same trial and error method.
"Even with those [early] mistakes we were still profitable," he said. "We learned from our mistakes and fine tuned and fine tuned until we got to where we are today."
History:
Today, Casey Houweling runs the company with support from his family. This year, he and his wife Linda will be married 22 years. The couple has three daughters Rebecca, Monica and April. Houweling said he hopes the business continues in the family.
His middle daughter, Monica, is currently working full time with Houweling, learning all the ropes of running the family business. They are making sure she works in every department, so she knows what the entire company is like.
"She's got the right kind of business acumen," he said of his daughter running the company one day. "It's been quite the learning curve and finding out where her niche is."
This year, Houweling said the focus is to leverage more of their sales and marketing. "Our company is integrating and sales is an integral part of the operations," he said. "Ultimately our job's not done until the consumer buys our product."
But whatever their next move, they are going to do it with the future in mind. "We have to figure out ways to produce more with less," he said. "There are ways of doing it; it just takes a different mindset."
That goes, not only for the environment and for the future of his family – but the families of the more than 750 employees of Houweling's Tomatoes.
"We have a responsibility to each one of those in one way or another, to maintain that ability to sustain themselves too," he said.
Houweling said there are a lot of challenges facing business in America. "There's a lot of things pushing against American business; we need to find ways to overcome that. America is a great country, and we have to do what we can to keep it that way."