Carl Sam Maggio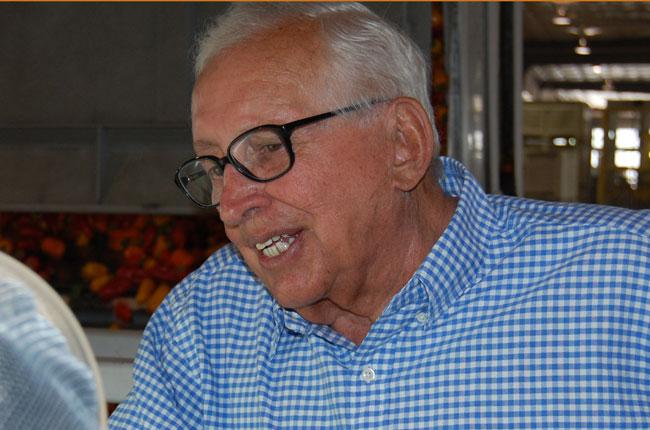 "I love it. It's not work, it's play."
Family:
The fun started in 1957 when Maggio went to work for his uncle Joe Maggio—"Known as the Carrot King of Holtville, Imperial Valley." There, he spent six years doing "gofer work," for his uncle, but Maggio said he learned a lot.
"He was a great teacher, very tough," he said.
Maggio studied political science at the University of Southern California—and he was eager to show his uncle he could succeed in agriculture.
"I wanted to prove to him how good I was," Maggio said. "My goal wasn't to make a lot of money, although, obviously that's one of the ways to keep score—but it was really to just prove to everybody that I was being underestimated."
He said his success didn't come over night.
"It wasn't fast, it was very slow," he said. "But I just kept with it."
His next venture would also be in carrots with future business partner Skip Tostado. After two years of carrot farming, he said he was ready to get out.
"We didn't lose money, but we didn't make money," he said.
Little did he know that very next year would turn a profit. Tostado and Maggio later partnered in Sun World before Maggio left in 1991.
"We had a great relationship; he's a wonderful partner," he said of Tostado, who passed away in 1992.
In 1961, Maggio attended a WG meeting in Los Angeles, where he first met Joe Martori. They met at a coffee shop to sort out the details of a possible business partnership. "He takes out a napkin and he gets a pen and said 'This is what we're going to do,'" Maggio said of the meeting.
He then told Maggio to call his office and have his office manager send him a check.
"I said, 'You want me to tell (him),'" Maggio said he asked. "I gave (the office manager) an address and he sent $25,000. All over a little napkin."
Maggio parlayed his strong business partnerships into another venture in 1992. That year, he founded Sun and Sands Enterprises with Mark Nickerson, Chuck Hodges and Skip Tostado.
With good-sized players in all the major commodities, Maggio and his partners saw an opening. There weren't many people in the pepper business in 1992, he said.
"So, our timing was just perfect."
The partners merged Sun and Sands with C.H. Sales, and in 1997, Prime Time International was born. They brought variety to the niche with red, orange, yellow and green peppers.
Today, it's a new addition that has Maggio excited. Prime Time's mini sweet peppers are available at various retailers, including Costco Wholesale Corp. and Vons, a Safeway Inc. store.
History:
Carl Sam Maggio has been in the fresh produce business for more than 50 years. He's one of three founding partners in Prime Time International, a produce company with headquarters in Coachella, Calif. It specializes in peppers, and with fields in California and Mexico, it is able to grow peppers 365 days a year.
While some would consider Maggio's 55-year tenure a full career, he said it's not the end: He still has a lot of work to do.
This year Maggio is the recipient of the Western Growers 2012 Award of Honor. He'll receive the award Tuesday evening, Nov. 13 in Scottsdale, Ariz. at the WG Annual Meeting, Nov. 11 through 14.
What's kept him in the business is his passion.
"I've met great people; great things have happened," he said. "Obviously, I could retire if I wanted to, but nothing's as much fun as this."